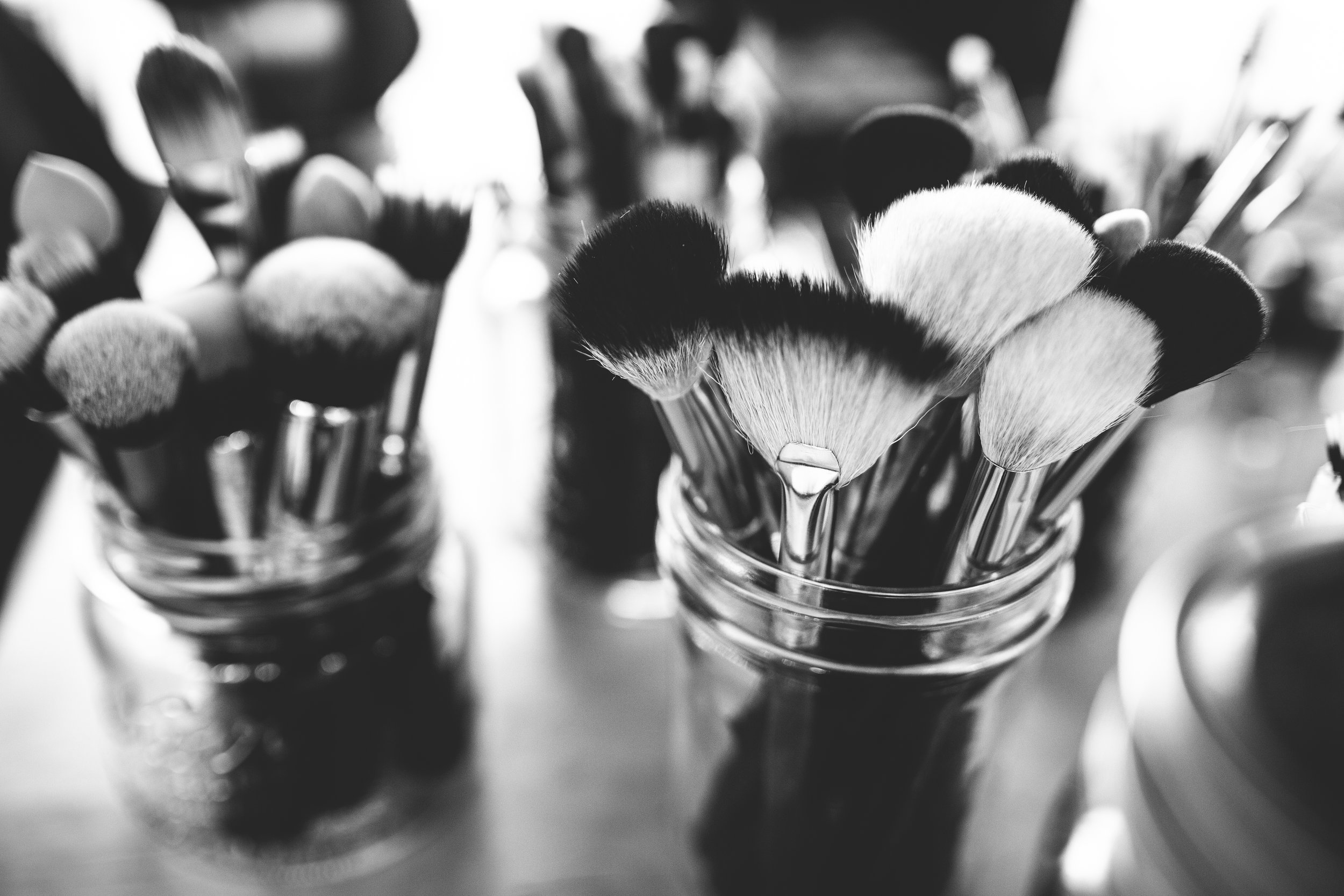 Make-up
Whether it's a special occasion or just needing a touch up before going back to work, we've got you covered. Using Aveda Inner Light Mineral Makeup and Aveda's new Feed My Lips pure nourish mint, you can experience what naturally derived botanicals and pigments can do for your skin. Want to know more? https://www.aveda.com/makeup/feed-my-lips
Traditional: traditional make-up application using Aveda Inner Light Mineral makeup. | $55
Airbrush available upon request
eyelash extensions
Individually Applied to your natural lashes providing that little bit of an extra something that mascara can't achieve. Made for everyday wear or special occasions, extensions are waterproof and can last several weeks with proper aftercare.
Full Set Approx. 70+ Lashes/ eye | $125 Full Fill 1 Hour | $75
Partial Set Approx. 35+ Lashes/ eye | $80 Partial Fill 30 min | $40
Hair Removal Services
Full body waxing (South location only)

Underarms | $15

Full face | $30

Full Leg | $60

Partial Leg | $30

Back | $50

Chest | $50

Full Arm | $30

Partial Arm | $15

Bikini | $25

Brazilian Bikini | $50

Brow, Lip, Chin and Nose (Offered at both Downtown and South) | $15
Microblading
offered by Staci Mains@ Downtown location
Microblading is a manual tattooing technique in which a small handheld tool made up of several tiny needles is used to add semi-permanent or permanent pigment to the skin. Microblading differs from standard eyebrow tattooing producing a thin, natural looking line that blends in with existing eyebrow hair mimicking natural hair direction and growth. It is typically used on eyebrows to attempt to either create, enhance or reshape the appearance of the eyebrows. Results can last from 6-18 months due to the skins natural process of shedding and skin cell turnover as well as proper aftercare and skincare routine following the procedure. This service requires 2 sessions 4-6 weeks apart and is included in the price | $400
*Please note, this service requires a deposit of half the service price upon booking this appointment. Deposit will go towards your total service cost. Client may reschedule or cancel this appointment up to 24 hours before scheduled service to receive a refund of their deposit. After this 24 hour deadline, client will lose a portion of their deposit and may be asked to pay an additional fee upon rebooking.
Facial Treatments
Your skin care routine need a boost? Every facial begins with a consultation with your esthetician to choose the best treatments for your specific skin care path. Our estheticians specialize in both PCA Skin as well as Hydro Peptide.
Mini Deep Cleanse Facial - This treatment focuses on removing dead skin build-up and loosing blackheads. Special techniques are used for easier removal of skin impurities leaving the client with a radiant glow. Approx. 30-45 minutes. | $50
Express Facial - A shorter version of our Relaxing customized facial. Includes cleansing, exfoliation, facial massage, specialty serums, a mask, moisturizer, and spf. Approx. 30-45 minutes. | $50
Relaxing Facial - A customized facial designed to rejuvenate the skin according to your needs and concerns while also implementing deep relaxation. Includes deep cleansing, exfoliation, extractions, facial massage, mask, upper body massage, steam towels moisturizer, and spf. Available for 60 or 90-minute sessions. | $75/$100
Dermaplaning - is a simple and safe procedure for exfoliating 20-25 dead skin layers of the epidermis and ridding the skin of fine vellus hair (peach fuzz). This hair often causes a buildup of dirt and oils in the follicles, so removing the hair gives the client healthier looking skin. Taking approx. 30-45 minutes | $40
Dermaplaning Facial - All the benefits of the Relaxing Facial combined with dermaplaning. Enzyme mask or 1 layer of Sensi-Peel included. Available for 60 or 90-minute sessions. | $100/$125
Microdermabrasion - Microdermabrasion recharges your look, painlessly buffing away dry, damaged skin cells while encouraging the rise of new, natural collagen. Taking approx. 30-45 minutes | $40
Microdermabrasion Facial - All the benefits of the Relaxing Facial combined with microdermabrasion. Enzyme mask or 1 layer of Sensi-Peel included. Available for 60 or 90-minute sessions. | $100/$125
Stem Facial with Micro-Needling - Used in conjunction with micro-needling, improves appearance, wrinkles, pigment and inflammatory vascularity, Scar-less healing, little to no downtime, contains stem cell derived cytokine proteins. | Sold in packages of 3 for $450 only
Chemical Peels
We have a wide variety of chemical peels suited for the client's individual needs. Taking approx. 30-45 minutes
Sensitive Skin Peel - Designed for all skin types. The PCA Sensi Peel improve surface texture and brightens the skin while helping to promote an even skin tone. | $65
Ultra Peel I - This treatment has been specially formulated for maturing skin and will help improve the appearance of fine lines and wrinkles, while promoting an even skin tone and a clear complexion. | $65
Acne Peel - Designed to target clients with actinic skin types with the use of Hydroquinone & Resorcinol. This peel will even skin tone and provide more exfoliation for oilier, thicker and more resilient skin types. | $65
Pigment Peel - This peel helps promote an even skin tone and a clear complexion due to skin discoloration from sun damage and aging. | $65
Thermo-Lo - Thermo-Lo uses electricity to create heat to treat minor skin irregularities. This treatment targets skin tags, clogged pores, cherry angiomas, sebaceous hyperplasias, broken capillaries and sun spots. | $50-$100
Body Treatments
Back Treatment - Designed to revitalize this hard to reach place. A great treatment for back breakouts or dry skin. Key ingredients soften and hydrate the stratum corneum, creating treatment results that will help even skin tone and smooth the skin. Microdermabrasion included. Approx. 30-45 minutes. | $100
Neck & Decollate Treatment - An often-ignored area. The neck and décolleté treatment is designed to target sun damage on the chest. With the utilization of our Smoothing Body Peel solution paired with microdermabrasion, this treatment leaves this neglected area feeling rejuvenated. Add Thermo-Lo for extra. | $75
Sunless Airbrush Tanning
For that glow after your pampering, we use Norvell and South Seas Spray Tanning. | $25
Nail Esthetics
Give those digits some love and care!
Traditional manicure light massage and a little nail shaping and top it off with a French polish or fun color. Add these bonus specialties to your manicure
With Paraffin

With Gel polish- we use OPI and CND Shellac

Polish change

Soak off

Traditional Spa Pedicure

With Gel
Bridal
The main event! The aisle is your runway and were here to make you effortlessly beautiful.
In order to make this day memorable for you in every way, we do ask that you read and agree to the terms and conditions of our Bridal Contract. This ensures your day runs smoothly and has all the information you may need for planning purposes.
Please see the attached Bridal Contract. Please contact your Bridal Stylist or one of our Guest Relations Specialists with any questions you may have. We look forward to your BIG DAY.